Animal Care Assessment Model
Building confidence, providing assurance
ACAM and the Codes of Practice
The Codes of Practice are vital, but alone are not enough – a mechanism is needed to demonstrate that Codes are being followed in order to build confidence throughout the value chain.
The Animal Care Assessment Model (ACAM) provides a credible process to follow when developing an animal care assessment program.
Key goals for the ACAM
Enhance the transparency, legitimacy and credibility of assessment programs developed according to the Model
Ensure consistency of communications along the value chain
Further develop Canada's own cooperative approach to farm animal care, an approach that can be communicated nationally and internationally, and that builds upon existing initiatives
Assist commodity groups in developing or revising an animal care program by providing an informed framework and useful resources
The ACAM should also ensure that animal care assessment programs provide benefits to both farmers and the animals under their care.
"The value in the ACAM approach to retailers and foodservice companies is that it
outlines 
a credible, multi-stakeholder process that confers credibility on
commodity groups using it." 

– David Smith, ACAM Steering Committee and SPC of Retail Strategy and Sustainability, Sobeys Inc.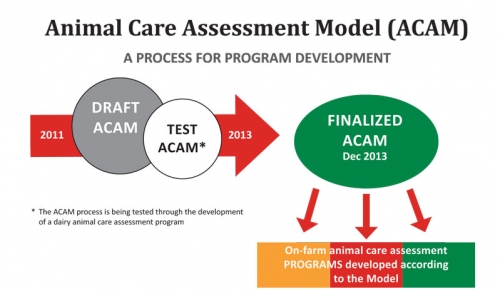 Click diagram to enlarge
Project Timeline
2005
NFACC initiates discussions on the value of an ACAM
2008
NFACC partners agree to proceed with the development of an ACAM
2009
Initial draft ACAM developed
2011
Steering committee organized to finalize ACAM
First ACAM stakeholders workshop (summary)
Dairy Farmers of Canada test pilot the draft ACAM with the development of their animal care assessment program
2012
Draft dairy animal care assessment program developed
2012-13
On-farm pilot of dairy animal care assessment program
2013
Second ACAM stakeholders workshop
2014
The ACAM is finalized
Steering Committee
The committee provides guidance and support in revising and finalizing the ACAM. Committee members:
Thérèse Beaulieu, Dairy Farmers of Canada
Jorge Correa, Canadian Meat Council
Anne Marie de Passillé, Agriculture and Agri-Food Canada
Jennifer Gardner, Chicken Farmers of Canada
Pierre Lampron, Dairy Farmers of Canada (as of October 2012)
Penny Lawlis, Ontario Ministry of Agriculture, Food and Rural Affairs
Ryder Lee, Canadian Cattlemen's Association
David Murray, Dairy Farmers of Canada (as of October 2012)
Ed Pajor, University of Calgary
Catherine Scovil, Canadian Pork Council
David Smith, Sobeys Inc.
Geoff Urton, BC SPCA / Canadian Federation of Humane Societies
Tina Widowski, University of Guelph
Jennifer Woods, J. Woods Livestock Services
Past members
Pauline Duivenvoorden, Dairy Farmers of Canada (2011-2012)
Bruno Letendre, Dairy Farmers of Canada (2011-2012)
The ACAM is being supported by Agriculture and Agri-Food Canada's Agricultural Flexibility Fund, as part of Canada's Economic Action Plan.