---
Past Webinars
A Professional Model for animal agriculture to secure animal welfare and build public trust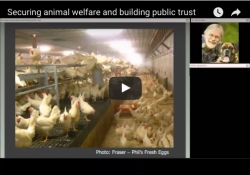 By Dr. David Fraser, Professor, Animal Welfare Program, University of British Columbia
(09 Nov 2015) - Click on the link to the right for an engaging presentation by Dr. David Fraser that will reframe the debate on farm animal welfare and offer an alternative approach for instituting effective standards and creating public trust through a model of "professionalism."
Trust me doesn't cut it anymore - A retailers / foodservice perspective on animal welfare assurance
By David Smith, National VP of Retail Strategy and Sustainability, Sobeys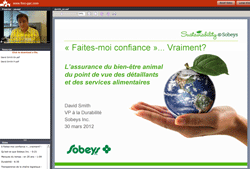 (30 Mar 2012) - Follow this link to hear David's inside perspective on what retailers and foodservice companies need to proactively address farm animal welfare challenges, and provide farm animal welfare assurances to their customers.
The webinar is facilitated by Farm Management Canada. Not registered with FMC yet? Click here to register.*
* If you have filled out the registration form on Agriwebinar.com, you are already registered. A single registration gives you access to all live and recorded webinars.