Current
Under Revision
Code Development Process
Equine
The equine Code of Practice comment period is now closed. Thank you to all those who submitted comments during the comment period.
Code Development Progress
| | |
| --- | --- |
| Code revision initiated | January 2011 |
| Public comment period | December 3, 2012 - February 14, 2013 |
| Estimated Code release date | June 2013 |
Surveys
As part of the equine Code development process, NFACC conducted three surveys to gain input from a broader group of stakeholders.
Survey one - awareness of and attitudes towards the equine Code of Practice
Survey two - body condition scoring, reproductive management, transport
Survey three - health management and tail alterations
The surveys are now closed. We thank everyone who participated in the surveys; the results were very useful to the committee as they drafted the Code.
Priority Welfare Issues List
The priority welfare issues are species specific and manageable topics that are considered to be important for animal welfare and will particularly benefit from a review of the available scientific literature.
The Code Development Committee (CDC) and the Scientific Committee (SC) each identify their respective lists. Once complete, the committees come together to collectively finalize the priority welfare issues for the species. The SC then reviews the scientific literature for each priority welfare issue and develops a report synthesizing the research results, summarizing the consensus (if any), and identifying any gaps requiring further research. See full SC Terms of Reference.
The CDC uses the SC report to develop requirements and recommendations around the priority welfare issues in the Code of Practice.
Following is the priority welfare issues list for the Equine Code of Practice update:
Facility Design/Housing

Turn-out, social opportunities, foraging opportunities, provisions for daily exercise
Housing risks associated with stereotypic behaviour and management of the stereotypic horse
Inadequate housing (isolation, confinement, lack of enrichment, social behaviour, ventilation, bedding)
Stall sizes (box, tie, foaling)
Requirements for shelter and shade

Equine Health

Disease prevention
Lameness
Painful Practices: freeze and hot iron branding; modifications of the tail; freeze and pin firing; soring; and castration
Hoof care

Handling and Training

Learning theory as it relates to training and handling
Training methods - does the scientific research suggest a benefit to common methods used?
Head shaking

Feed and Water

Water requirements in winter
Feeding behavior
Distil the more specialized nutritional issues into management components related to welfare:

Obesity
Thermal impacts on nutritional/energy needs
Laminitis

Feedlots
Note: other welfare topics for the species will be covered by the CDC. The priority welfare issue list is comprised of issues that would particularly benefit from a review of the available scientific literature.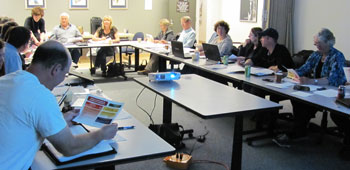 Equine CDC working on the Code (April 2012, Airdrie, Alberta)
Committees
Equine Code Development Committee members
Participants are defined as per NFACC's Code of Practice guidelines.
| | | |
| --- | --- | --- |
| Role | | Committee Member |
| Code Secretary | | Caroline Ramsay / Ron Barker |
| Producer | | Jack de Wit (Chair) |
| | | Sharon Cooke |
| | | Ellen Hockley |
| | | Grant Field |
| | | Laurie Haughton |
| | | Geoff Maltby |
| | | Renée Lévesque |
| | | Bernard Giles |
| | | Justin Shaw |
| Transporter | | All representatives with knowledge and expertise |
| Veterinarian | | Michael Cockram |
| Animal welfare organization | | Bettina Bobsien |
| Animal welfare regulatory enforcement body | | Jeremy Locke |
| Retail and food service organization | | Requested but position not filled |
| Processor | | Glenn Flewelling |
| Agriculture Canada and/or CFIA | | Nicole Cormier |
| Provincial Government | | Les Burwash |
| Researcher / academic | | Katharina Lohmann |
| | | Camie Heleski |
| Technical Expertise | | Jennifer Woods |
| | | |
| Industry Liaison (ex-officio) | | Susan Stewart |
Equine Scientific Committee
Camie Heleski (Chair)
Katrina Merkies
Dany Cinq-Mars
Henry Staempfli
Trisha Dowling
Stephanie Yue Cottee (Research Writer)