Programs recognized by NFACC
Canada Fox Breeders Association
Animal Care Assessment Framework
Implementing Codes of Practice: Canada's Framework for Developing Animal Care Assessment Programs
The Codes of Practice are vital, but alone are not enough – a mechanism is needed to demonstrate that Codes are being followed in order to build confidence throughout the value chain.
The Animal Care Assessment Framework provides a credible process to follow when developing an animal care assessment program. Animal care assessment programs will change over time. Click <here> for NFACC's process for maintaining recognition by NFACC of an animal care assessment program that has undergone changes.
Key goals
Enhance the transparency, legitimacy and credibility of assessment programs developed according to the framework
Ensure consistency of communications along the value chain
Further develop Canada's own cooperative approach to farm animal care, an approach that can be communicated nationally and internationally, and that builds upon existing initiatives
Assist commodity groups in developing or revising an animal care program by providing an informed framework and useful resources
The framework should also ensure that animal care assessment programs provide benefits to both farmers and the animals under their care.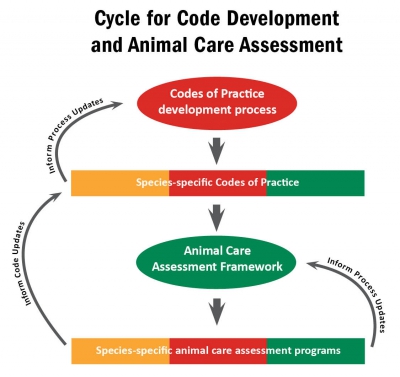 Click diagram to enlarge