Current
Under Revision
Code Development Process
Beef Cattle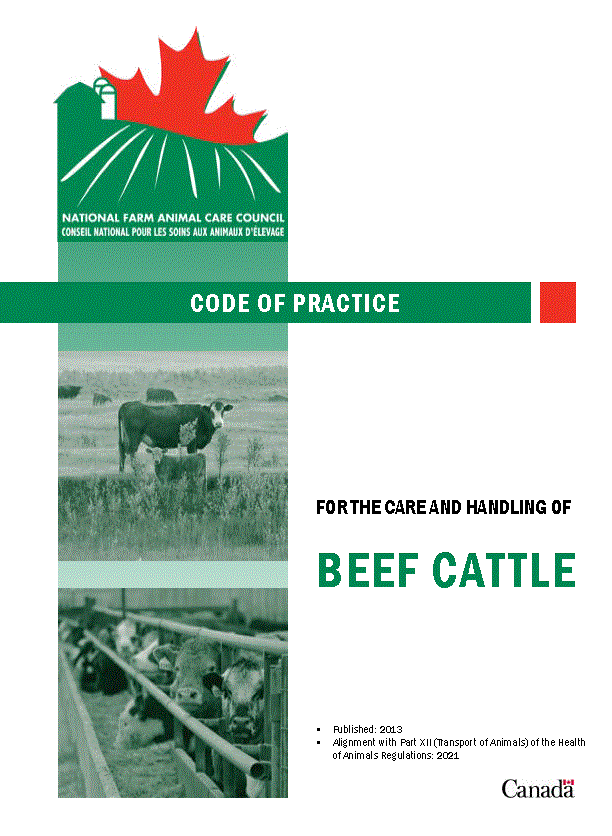 The Code of Practice for the Care and Handling of Beef Cattle was released in 2013. The beef cattle Code's 5-year review was completed in 2018. The outcome of the 5-year review can be found here.
There are various ways to view the Code:
There are a limited number of hard copies of this Code. NFACC encourages use of the electronic version and does not store hard copies. If hard copies are required, please contact the Canadian Cattlemen's Association.
Other resources:
---
Table of Contents
Appendices
Appendix A
- Body Condition Scoring
Appendix B
- Nutrient Requirement Guidelines for Beef Cows and Growing Beef Cattle
Appendix C
- Calving: When and How to Help
Appendix D
- Transport Decision Tree
Appendix E
- Lameness Descriptions Rendering Animals Compromised or Unfit for Transport
Appendix F
- Euthanasia - Secondary Kill Steps: Bleeding Out and Pithing
Appendix G
- Resources for Further Information
Appendix H
- Participants
Appendix I
- Summary of Code Requirements